| | |
| --- | --- |
| Product name | NanoActive Resveratrol (RES) |
| CAS No. | 501-36-0 |
| Quality Standard | 5% by HPLC |
| Appearance | Yellow, viscous and transparent liquid |
| Solubility | Soluble in water and oil, heated to over 40℃, dissolution-rate will be accelerated |
COA of NanoActive Resveratrol (RES)
ITEMS

STANDARDS

RESULTS

Characteristics

Light yellow, viscous liquid

conform

Diluted in water (1: 50)

Colorless or light yellow and transparent solution

conform

Odor

Characteristic Smell

conform

Assay (HPLC)

≥5.0%

5.10%

pH (in 1:50 aqueous solution)

5.0-8.0

6.8

Density (20ºC)

1.0 – 1.1 g/cm3

conform

Heavy Metal

≤10ppm

conform

Solubility

Soluble in water and oil, heated to over 40 ℃,

conform

dissolution rate will be accelerated

Total aerobic bacteria

< 10 CFU/g

conform

Molds and Yeasts

< 10 CFU/g

conform

pathogenic bacteria

negtive

conform

Conclusion: Conformed to specification.
Resveratrol (Res)
is a non-flavonoid polyphenol compound.
Resveratrol
has a wide range of anti-cancer, anti-oxidation, antibacterial, anti-inflammatory activities. It can be widely used in medicine, health care products, food, cosmetics and other fields. Resveratrol highly works on many targets on the skin. As a new high- efficiency natural active substance, it can achieve good whitening, anti-wrinkle, anti-inflammation, antibacterial, acne treatment and anti-aging functions in skin care products. But disadvantages of resveratrol which is hard to dissolve in water, easily oxygenated and easy discoloration limit its application in cosmetics.
NanoActive Res, with a particle size of less than 30nm developed by the nano-delivery system (NSD), completely solve the problems of dissolution of Resveratrol. Resveratrol that stably wrapped in nano-carriers can greatly increase the absorption efficiency and bioavailability.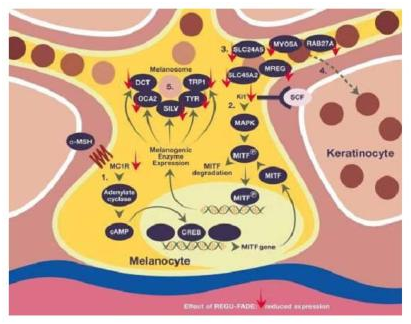 Resveratrol inhibits melanin synthesis by multiple targets
Product Efficacy of NanoActive Res
1. NanoActive Res can promote collagen synthesis, increase skin thickness and elasticity, remove wrinkles and tighten skin.
2. NanoActive Res inhibits melanin synthesis, reduces pigmentation and whitens skin
3. Remove free radicals to fight oxidation and anti-skin aging
4. NanoActive Res Promotes wound healing and reduces scarring
5. Cure acne and reduce acne pit
6. Antibacterial, anti-inflammatory, anti - sensitive and analgesia;

7. Prevent scarring and fibrosis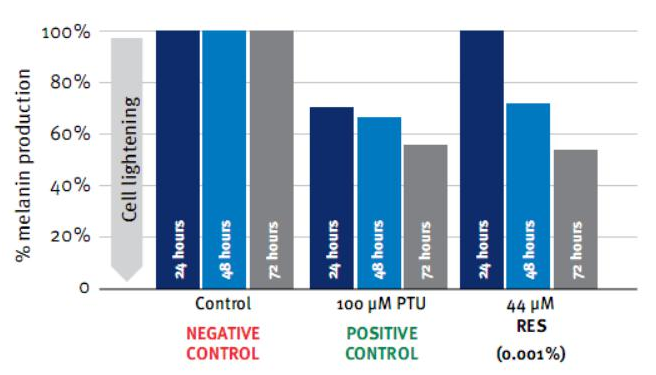 Low concentration of resveratrol (0.001%) reduced the melanin content of B16F10 cells by 50%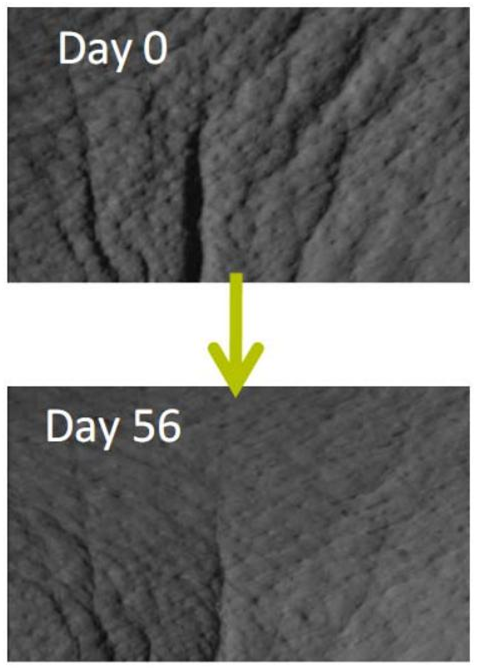 Resveratrol has an obvious anti-wrinkle effect
Recommended Quantity: 1-5%. The optimal pH range of the system is 3.0-6.5. The finished product should avoid direct sunlight (using opaque packaging). It is recommended to add UV absorbent to daycare products
Product storage: avoid light preservation under 25 ℃