| | |
| --- | --- |
| Product name | NanoActive Astaxanthin |
| CAS No. | 472-61-7 |
| Quality Standard | 5% by HPLC |
| Appearance | Reddish to dark red, viscous and transparent liquid |
| Solubility | Soluble in water and oil, heated to over 40℃, dissolution-rate will be accelerated |
COA of NanoActive Astaxanthin
| | | |
| --- | --- | --- |
| Item | Standards | Results |
| Color | Redush to dark red | conform |
| Odor | Characteristic | conform |
| Aspect | Liquid | conform |
| PH | 5-8 | 6.53 |
| Aerobic plate | <100CFU/g | conform |
| Yeast&Molds | <10CFU/g | conform |
| Escherichia coli presence | Negative | conform |
| Salmonelia presence | Negative | conform |
| Concliusion | conforms to standard | conform |
Astaxanthin is a carotenoid that is the highest level of carotenoid synthesis ever discovered. The product, which has the strongest antioxidant capacity in nature, is regarded as the revolutionary product of anti-oxidation in the 21st century.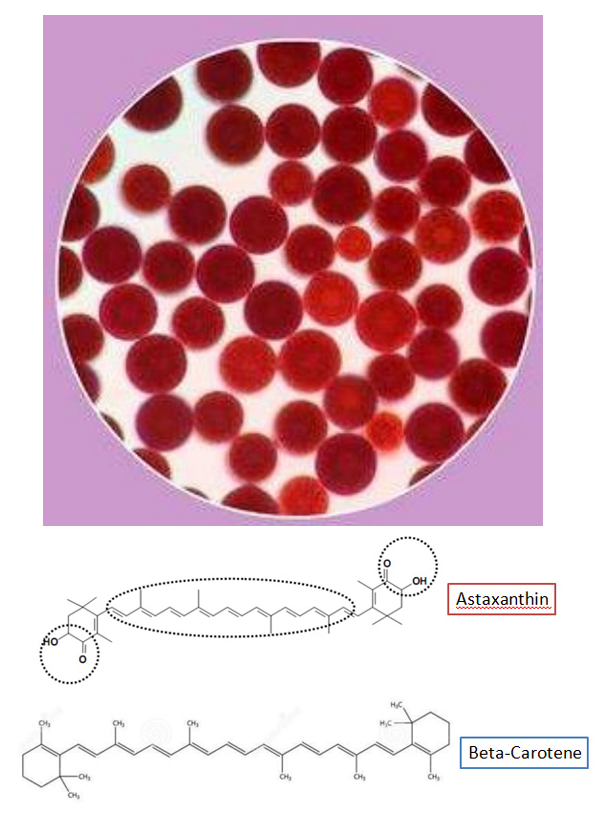 Astaxanthin has an extra hydroxyl group in its structure compared to caeninone-beta carotene. And the oxygen-containing groups of carbonyl groups, which are polar at both ends and non-polar in the middle of the molecule so that they can be placed across the membrane. The ketone structure of polar part has the strong ability to eliminate free radicals. In addition, the hydrophobic part in the middle of the structure is a conjugate unsaturated double bond chain, which can transfer the free radical high electrons outside the cell to reduce cell damages. More importantly, this antioxidant capacity can suppress pre-inflammatory response which is the nf-kb dependent pathway.

As the king of antioxidants, astaxanthin has been found to have physiological and biological functions with more than 100 types, such as anti-aging, skin health protection, prevention of cardiovascular diseases, inhibition and prevention of diabetes, protecting the eyes and central nervous system, enhancing immunity, relieving sports fatigue, enhancing energy metabolism and inhibiting tumors and so on. It is believed that with the further study and understanding of astaxanthin functions, it will be more widely applied into our daily life.

More and more people will enjoy the benefits of astaxanthin. A large number of human clinical trials have been conducted


Security and effectiveness of astaxathin: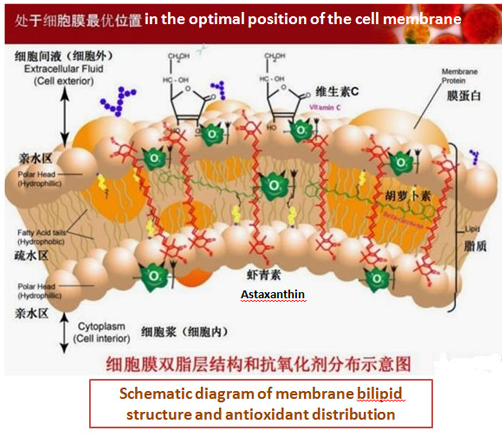 Astaxanthin is a lipid-soluble compound, which is difficult to be absorbed by the skin. NanoActive Astaxanthin, with a particle size of less than 30nm developed by nano-delivery system (NSD), completely solve the problems of dissolution and stability of astaxanthin. that stably wrapped in nano-carriers can greatly increase the absorption efficiency and bioavailability.
Features of NanoActive Astaxanthin:
1. NanoActive Asta has good thermal, pH and shear stability, easy to use.
2. NanoActive Asta has significantly improved the stability and bioavailability of Asta.
3. NanoActive Asta can greatly enhance the absorption.
4. NanoActive Asta is 100 % water soluble and 100% oil soluble (amphipathy) with wide range of application.
5. The raw material of Asta meet the FDA GRAS standard
Product Efficacy in cosmetics of NanoActive Astaxanthin:
1. NanoActive ASTA can increase the antioxidant effect of skin cells, protect skin damage from free radicals.
2. NanoActive ASTA is an active ingredient that can resist wrinkles, be whitening and anti-Aging, moisturizing and increasing skin elasticity etc.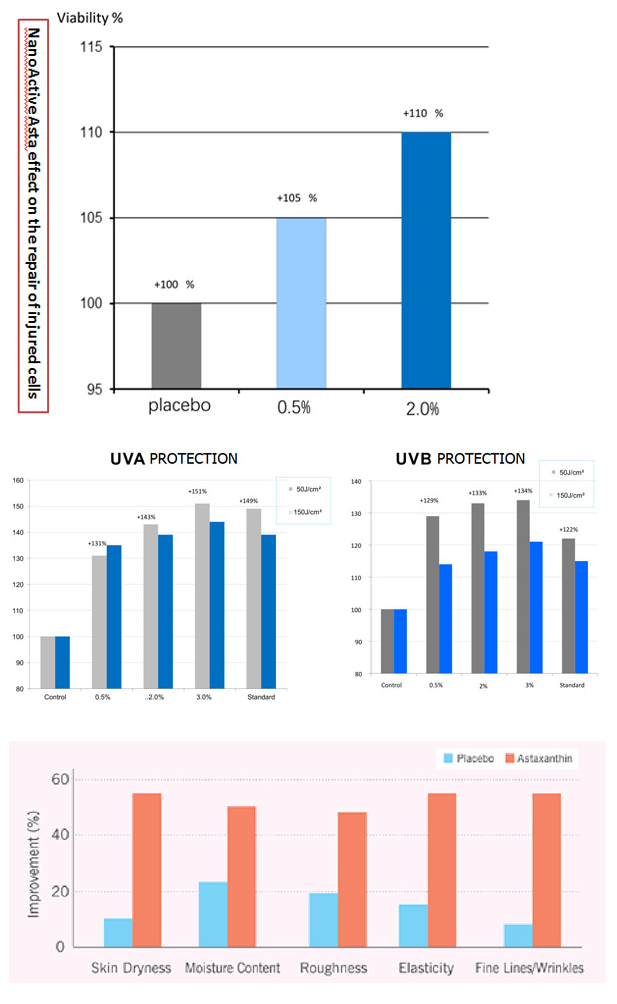 skin moisture, elasticity, fine lines, gloss etc have improved significantly after using Astaxanthin
Recommended Quantity: 1-5%. It is better to use with Resveratrol and other products.
Product storage: Avoid light preservation under 25 ℃